Last updated on November 22nd, 2022 at 09:29 am
Using the latest in shoe design technology, Cushion Walk delivers ultra-comfortable footwear fit for a range of lifestyle demands. This British bastion of shoe design is one of the exciting ranges of offer at Shoe Zone. You'll find options for year-round wear within the selection, whether you're looking for summer-ready sandals or working lunch lace-ups.
For over 40 years, Cushion Walk has been matching traditional shoemaking knowledge with new innovations to craft comfortable, affordable designs that help support your feet wherever you walk. Choose from sandals, slip-ons, lace-ups and more with the Cushion Walk range from Shoe Zone.
With a range of both men's and women's shoes and boots, your perfect pair is waiting.
Padded soles for super comfort
Whether you need boots that stand up to your busy workdays, or sandals ready for summer days at the seafront, Cushion Walk has a comfortable shoe for you.
Wave goodbye to sore feet and achy soles with a pair of padded shoes from the Cushion Walk range. Memory foam technology and an anatomical fit that moulds to the shape of your foot ensures support is offered with every step.
Shoes for every need
From on-trend lace-ups to fashionable, evening-ready slip-ons, the Cushion Walk range is packed with options ready for any lifestyle.
You'll find floral pattern wedges perfect for picnics in the park, or simple, touch-fasten black shoes that support you throughout the working day.
Whether you're looking to boost your formal-wear options or keen to add a splash of colour to your summer-ready styles, there is plenty to choose from with Cushion Walk at Shoe Zone.
Practical wear for style-conscious shoppers
Both pretty and practical, the Cushion Walk range features lightweight, anatomical design features that last for all-round wear.
The durable design and easy-fit technology is crafted purposefully for simple, every-day practicality. Touch-fasten and slip-on options are ideal for on-the-go people, while stylish ankle boots and court shoes are perfect for those who want to splash a little style onto their formal getup.
Flexible uppers for all-round action
You need a shoe to be as active as you are. Flexible uppers and lightweight design features mean the Cushion Walk range is ready for all-action days out, from pavement-pounding afternoon walks to sturdy shoes to wear when tackling the to-do list.
The boots range are equally at home exploring the countryside or trekking trails as they are on Saturday-shopping trips and inner-city adventure.
Elsewhere, you'll find breathable slip-ons made with moisture-resistant fine mesh material. Perfect for everyday wear, the selection of slip-ons feature a supportive grip and let your feet breath while keeping out excess moisture.
Where to wear Cushion Walk footwear?
From beach trips and shopping style tips to workwear and formal attire – the Cushion Walk range has a shoe for you.
Below are just some of the ways you could wear your new Cushion Walk shoes:
Shopping Days
You don't need to choose between style and comfort with Cushion Walk. The Cushion Walk Women's White Wedge Sandals go with anything and look incredible too.
The open toes and sides ensure that your feet stay cool even in the height of summer.
If you prefer to do your shopping in comfortable flats, the Casandra Blue Slip On Loafer is supportive and has a gentle wedge heel. With a tassel detail, they're perfect for adding style and comfort to any outfit.
The Declan Men's Casual Tan Slip On Shoes are the perfect accompaniment to a day in the city. They are easy to dress up or keep casual, and the supportive soles are great for any afternoon out.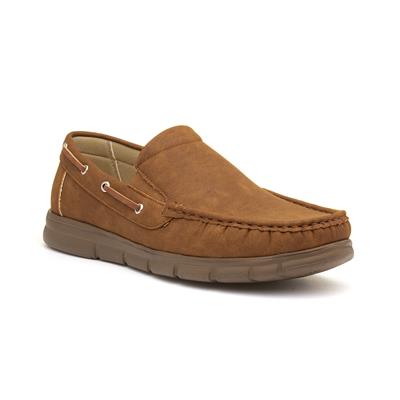 Wear them to work
A range of practical and stylish options ensure that your work footwear never lets you down.
Easy to fasten, both comfortable and practical, Cushion Walk Men's Brown Easy Fasten Shoes are perfect for long days and can go from the work environment to walking to the dog or an evening stroll with ease.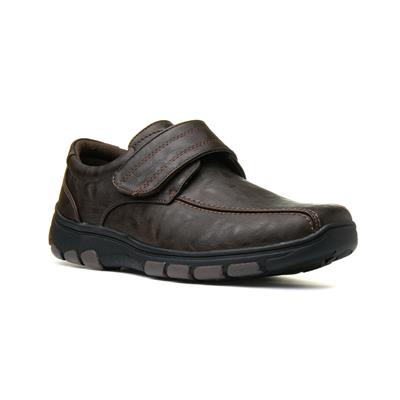 If you love heeled shoes, then the Cushion Walk Lara, Rosie or Ava are perfect. Packing a 5.5cm heel, with these shoes you can decide between a decorative leather-look strap, buckles or ruched detailing.
Hitting the beach
Beach-ready shoes need to be ready for sand, sea and a whole lot of sunshine. A great pair of holiday shoes will also be able to ease the transition between seaside outfit and beachfront-style. The Cushion Walk sandals range features options that switch easily between sunbathing style and a dinner by the sands look.
The simple and elegant Stella White and Silver Sandal are the perfect beach companion. The gripped undersole is ideal for long walks, and the design will keep your feet cool throughout the warmer weather.
Style for special occasions
Special events deserve special footwear, and Cushion Walk has some great options for men and women.
The Cushion Walk Men's Black Slip-On Shoe is comfortable and sleek with a matte finish and velvet side strip. Black shoes can be dressed up or down – and the rear cushion trim makes the shoe incredibly comfortable.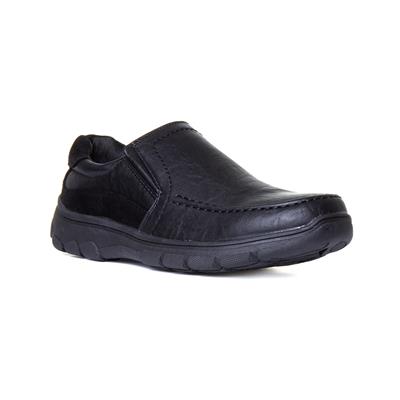 The Felicity slingback wedge sandal has a beautiful floral print and a luxurious padded insole – stunning for weddings, parties and evening dinners.
With a beautiful range of styles and designs, Cushion Walk works with every lifestyle, keeping you feeling comfy all day. Shop the complete Cushion Walk collection at Shoe Zone today.